✹ INVEST IN YOUR SKIN YOU WEAR IT EVERYDAY
✹ INVEST IN YOUR SKIN YOU WEAR IT EVERYDAY
✹ INVEST IN YOUR SKIN YOU WEAR IT EVERYDAY
✹ INVEST IN YOUR SKIN YOU WEAR IT EVERYDAY
✹ INVEST IN YOUR SKIN YOU WEAR IT EVERYDAY
✹ INVEST IN YOUR SKIN YOU WEAR IT EVERYDAY
✹ INVEST IN YOUR SKIN YOU WEAR IT EVERYDAY
✹ INVEST IN YOUR SKIN YOU WEAR IT EVERYDAY
✹ INVEST IN YOUR SKIN YOU WEAR IT EVERYDAY
✹ INVEST IN YOUR SKIN YOU WEAR IT EVERYDAY
✹ INVEST IN YOUR SKIN YOU WEAR IT EVERYDAY
✹ INVEST IN YOUR SKIN YOU WEAR IT EVERYDAY
✹ INVEST IN YOUR SKIN YOU WEAR IT EVERYDAY
✹ INVEST IN YOUR SKIN YOU WEAR IT EVERYDAY
✹ INVEST IN YOUR SKIN YOU WEAR IT EVERYDAY
✹ INVEST IN YOUR SKIN YOU WEAR IT EVERYDAY
✹ INVEST IN YOUR SKIN YOU WEAR IT EVERYDAY
✹ INVEST IN YOUR SKIN YOU WEAR IT EVERYDAY
✹ INVEST IN YOUR SKIN YOU WEAR IT EVERYDAY
✹ INVEST IN YOUR SKIN YOU WEAR IT EVERYDAY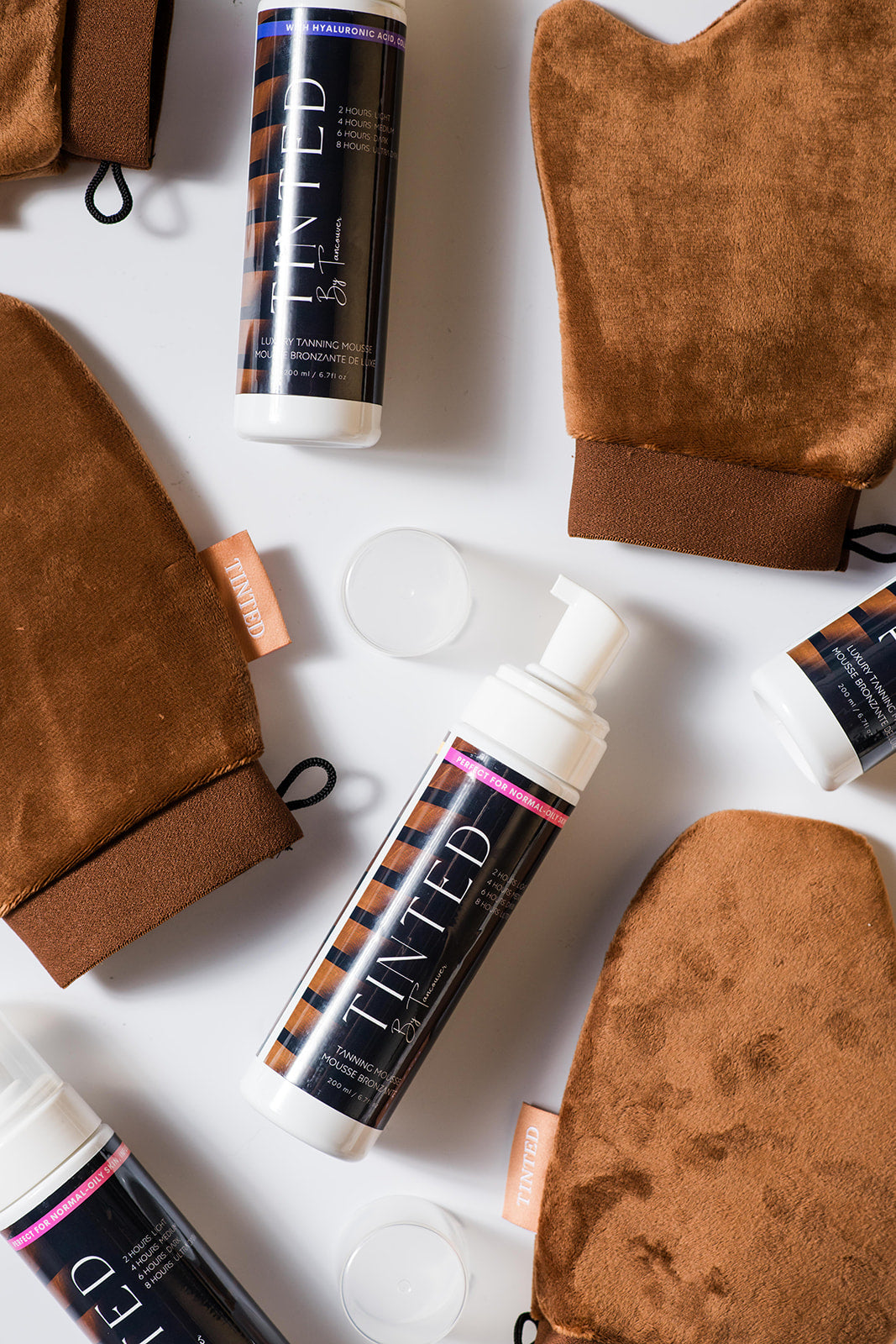 Luxury Bronzing Mousse
Developed by an award winning spray tan artist from Ireland, this perfectly pH balanced product is a total game changer, set to revolutionize your sunless tanning experience.
Our easy to apply, fast drying mousse is infused with skin loving hero ingredients such as Hyaluronic acid, Collagen, Vitamin B3, Certified Organic Aloe Vera & Organic Green Tea.
Invest in your skin, you wear it everyday...
SHOP
Regular price

Sale price

$40.00 USD

Unit price

per

Regular price

Sale price

$31.00 USD

Unit price

per

Regular price

Sale price

$11.00 USD

Unit price

per
Amazing Ingredients

Formulated with the highest grade and most refined skin loving ingredients, Tinted delivers a beautiful bronzed finish which dries in seconds and will never dehydrate your skin - it's infused with hyaluronic acid and collagen!

Multi Shade Technology

Customize your glow every time! Simply rinse at our recommended times to achieve a light, medium or dark finish. You can even sleep in this product overnight or reapply the next day for a deeper bronze flawless tan!

Effortless Application

Whether you are only beginning your sunless journey or you are a self proclaimed sunless tanaholic, this luxurious lightweight formula glides onto the skin like a dream and delivers a beautiful golden olive tone.